Public Events
Public Events
Master Education In Arts – Graduation Presentation 2018: Pedagogy In Context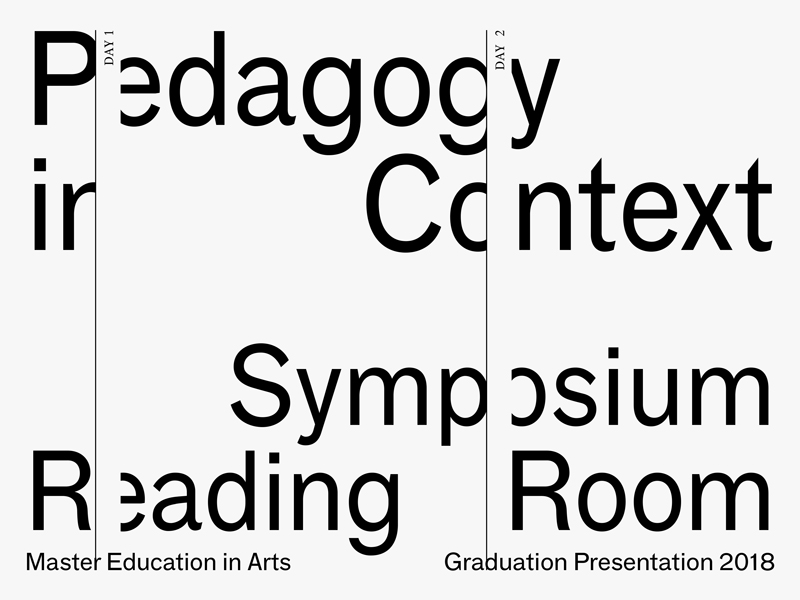 Master Education in Arts – Graduation Presentation 2018 Pedagogy in Context Symposium Reading Room
Friday & Saturday July 6 – 7: Symposium Pedagogy in Context, TENT. (live screened in the Reading Room). TENT., Auditorium, Witte de With straat 50. July 6: 11.00 – 20.00 hrs (drinks afterwards) July 7: 11.00 – 17.00 hrs
July 4 – 8: Reading Room, WdKA, Piet Zwart Institute, 4th floor, Wijnhaven 61. Opening 4 July: 17.00 – 23.00 hrs July 5 – 6: 11.00 – 23.00 hrs July 7 – 8: 11.00 – 18.00 hrs
The Master Education in Arts of the Piet Zwart Institute cordially invites you to her Graduation Presentation 2018 taking place at two locations this year: the Willem de Kooning Academy and TENT. Rotterdam. The graduation projects of the students are presented adopting two different formats: the symposium Pedagogy in Context, hosted by TENT., and a Reading Room at the Willem de Kooning Academy, both being part of the WdKA Graduation Show 2018.
The symposium Pedagogy in Context at TENT. consists of workshops, presentations, performances and discussions. It introduces the diverse experimental contexts and research methodologies of the students' graduation projects as well as the diversity of their educational practices. Visitors are invited to participate in an open discussion on the urgencies of contemporary art/design education. The Reading Room at the WdKA offers a space where visitors can access the students' research projects, as well as the 'living archives' of their theoretical and practice-based research. There is also a live screening of the symposium.
Participating students: Susana Carvalho, Fieke Dieleman, Felix Dorer, Marianne van Horssen, Emily Huurdeman, Amy Pickles, Desiree Kerklaan, Marian Ouwerkerk, Marine Poyard, Benjamin van der Spek, Maarten de Vugt and Viki Zioga.
Detailed information about the symposium program will be released soon on this website and our graduation website: http://meia.pzwart.nl
You Are Already In It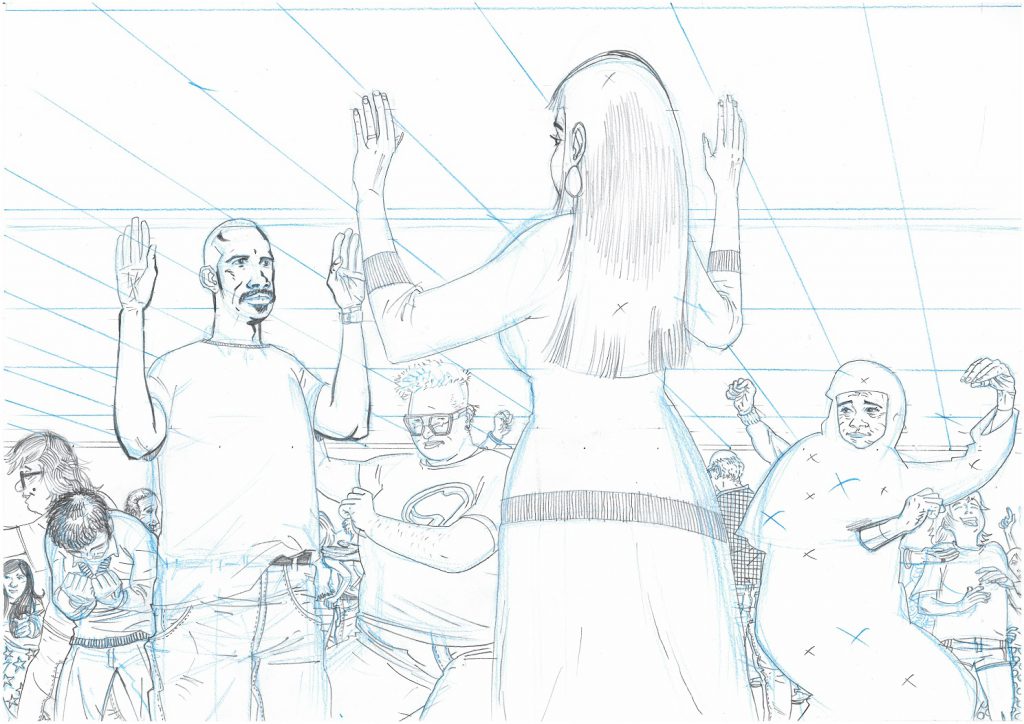 Time: Thursday November 9, 19.30 – 21.30 hrs
Location: Willem de Kooning Academy, Wijnhaven 61 Rotterdam. Large project space, 4th floor.
Admission: Free
The Master Education in Arts cordially invites you for a lecture by Elizabeth Graham and Amal Khalaf.
You are already in it
Through a series of collective exercises and readings, we will discuss listening as a pedagogical space for collectivity, reciprocity and care. Sharing research developed from The Centre for Possible Studies and our current Serpentine Projects we will reflect on practices of listening, mapping, archiving and collective action. How do we move beyond the subject/object dynamic of social practice? Fred Moten says that 'you are already in it', you are already in the thing that you call for and that calls for you. What does it mean to work in socio-political context and how can community practice within arts institutions be a practice of solidarity?
* For the participants: Please bring a sound to share that responds to the question: what is the sound of solidarity? Recordings should last between 1 – 2 minutes.
Elizabeth Graham
Elizabeth Graham studied Fine Art at Chelsea College of Art and Design, graduating in 2009. She is a curator and educator based between London and Amsterdam. She is currently Assistant Projects Curator at the Serpentine Galleries, connecting artists, communities, self-organised groups and campaigns through long term residency programmes in the city. Alongside her role at Serpentine, Elizabeth also curates a range of public art commissions for UP Projects, including Constellations a working group at Flat Time House that supports artists to develop their practice by exploring socio-political contexts as the site for artistic practice. Prior to this, Elizabeth has worked at a variety of arts organisations including; Arnolfini (Exhibitions; John Akomfrah, Moving Targets), Tate Britain and Modern (Learning/ Artist-in-Residence Programme) and as an education researcher for the South London Gallery (ongoing). Since 2014, Elizabeth has been a tutor of Self-Directed Research on the Master Education in Arts, Piet Zwart Institute, Rotterdam, and co-organises How To Show Up? an ongoing writing and performance series at Sans Serrife, Amsterdam.
Amal Khalaf
Amal Khalaf is an artist, researcher and currently Projects Curator at the Serpentine Galleries, working on the Edgware Road Project since its inception in 2009. In addition she is the Commissioning Editor of Projects for Ibraaz, and a founding member of artist collective GCC.  Previously she has worked at Gasworks, London and the Townhouse gallery, Cairo as well as co-directing the 10th edition of the Global Art Forum, Art Dubai in 2016.  Amal's work has been presented at the University of Pennsylvania; Goldsmiths College, London; MoMA PS1, NY; New Museum, NY; Whitney Museum of American Art, NY; Mathaf: Arab Museum of Modern Art, Doha; Musee D'Art Moderne, Paris; The Sharjah Art Foundation, Sharjah; Serralves, Porto;  amongst others in educational and cultural contexts.
Image caption: Sketch by artist Nicolas Vass as part of 'Language, Resistance, Theatre' project.
Master Education In Arts Graduation Presentation 2017 – Act Otherwise 
Location: 
Presentation: TENT., Witte de Withstraat 50, Rotterdam Event program: V2_ Lab for the Unstable Media, Eendrachtsstraat 10, Rotterdam
Opening hours: 
Presentation Opening Night at TENT.: Thursday July 6, 18.00 – 21.00 Friday July 7, 11.00 – 23.00 Saturday July 8 – 9: 11.00 – 18.00Event program at V2_ Lab for the Unstable Media Saturday July 8: 13.00 – 17.00
Graduates: 
Janneke Baken, Ilse Leenders, Marina Martinez Garcia, Shailoh Phillips, Annemarie Piscaer, Sebastian Schneiders and Robin Vermeulen.
The research and graduation projects of seven students will be presented to the public, taking shape as seven different attitudes towards contemporary issues at stake in education. Together they address the question: How to Act Otherwise? The graduation projects are interconnected with and referencing each other, reflecting the research of a learning community exploring the possibilities of alternative pedagogical views and approaches. Herewith the presentation discloses different contexts, social, pedagogical aspects and present-day challenges in art and design education, in which the students are embedded. Apart from the presentation in TENT. an extra programme of workshops and events will be presented at V2 on Saturday afternoon 8 July. Act Otherwise is generously hosted by TENT Welcomes.
For more information please consult our graduation website,our general website or TENT. 
Presentation team Curator: Irina Shapiro, course tutor MEiA Spatial design: Gulia Consenza and Albert Takashi Richters Graphic design: Studio Inherent (Dennis van Gaalen and Eline Wieriks) With special thanks to TENT and V2_ Lab for the Unstable Media for their kind support and hospitality.
Agents in the Anthropocene: Trans/disciplinary Practices in Art and Design Education Today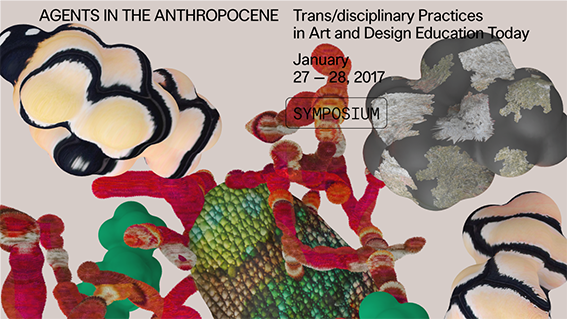 Dates: January 27-28, 2017
Location: Piet Zwart Institute / Willem de Kooning Academy, Rotterdam
Admission is free, but due to the limited number of available seats (80), registration is necessary. Registration is possible for either one of the two symposium days (limited), or the complete symposium. We encourage full participation and early registration (because of a large interest). You can register here and for detailed information about the programme, please consult the symposium website: www.anthropoceneagents.nl.
The Master of Education in Arts warmly welcomes you to the symposium Agents in the Anthropocene: Trans/disciplinary Practices in Art and Design Education Today, which takes place at January 27–28, 2017. With this symposium we intend to explore the role of the art and design fields as active agents within the discourse about the so-called 'Anthropocene'. Special focus will be given to the notion of trans-disciplinary research —with its cross-pollination of art, science, design, media, ecology and different cultural disciplines—arising as part of the (critical) discussion about the Anthropocene.
Confirmed speakers include: T.J. Demos (Professor History of Art and Visual Culture, UCLA, Santa Cruz; founding Director of the Center for Creative Ecologies); Alistair Fuad-Luke (educator, writer, activist, and Professor of Design Research at the Faculty of Design and Art, Free University of Bozen-Bolzano) Frauke Huber & Uwe H. Martin (artists, part of the collaborative art and research project World of Matter); the artists Joshua Portway & Lise Autogena, and many others. In addition to keynote presentations and brainstorm sessions, the symposium includes a selection of eleven international Open Call Presentations of exemplary practices and research from students, tutors, artists, researchers, designers, scientists and collectives.
The Anthropocene is both a widely acknowledged and fiercely debated term for a new geological era caused by humankind's destructive influence on the planet. A growing number of exhibitions and publications are studying the intersection of the so-called Anthropocene with artistic and cultural practices. Often they advocate for modes of trans-disciplinary research that incorporate visual, cultural, artistic, technological, architectural, ecological and political categories. There seems to be an urge for a new kind of aesthetics for narrating the contemporary global reality—whether measured by a scientist or framed by an artist, or collaboratively developed by both of them. This collaborative narration transforms separate creative disciplines into a new multi-disciplinary field, whose future appearance remains speculative.
Is there an urge for 'new mental equipment' that will allow us to imagine the Human-Nature partnership differently? There is certainly growing engagement and activism among artists and designers—a motivation to work together as collectives within cooperative projects, laboratory research settings and the like. What can we learn from these new modes of operation and trans-disciplinary research? How are artists and designers able to act? How do we educate them in the face of the 'Anthropocene'? What repercussions might these kinds of discussions even have for secondary art education? Or, how do we imagine the future of the environmental humanities?
Lecture Series – Cartographies of Acting Pedagogically: Working with Liquid Logic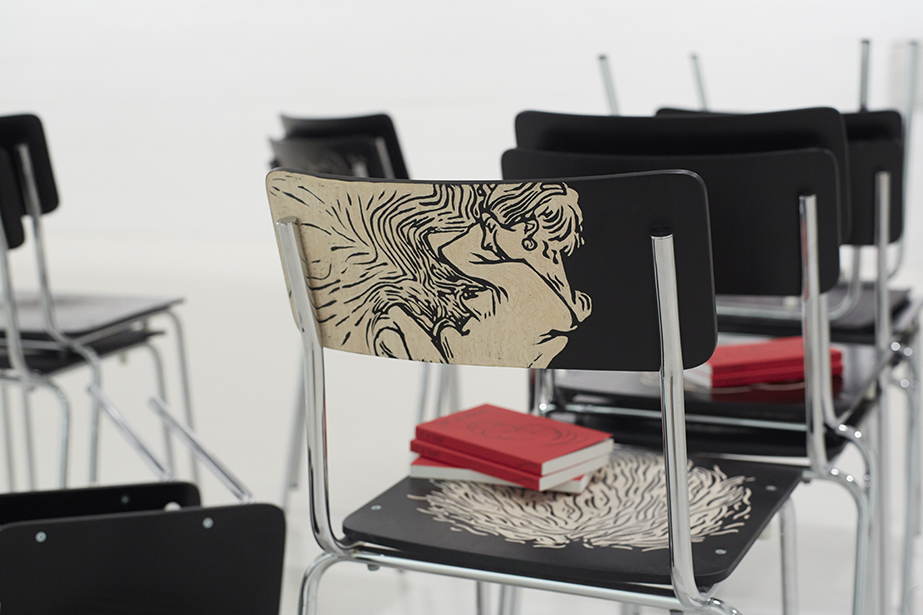 Photo credit: Priscila Fernandes, The Book of Aesthetic Education of the Modern School, 2014-2015. Installation. Courtesy of the artist.
Dates: May 22, June 4, June 18, 20.00 – 22.00 h
Location: TENT, Witte de Withstraat 50, Rotterdam
Entrance to the lectures is free, please reserve via info@tentrotterdam.nl
The lecture series is developed by Prof. Dr. Frans-Willem Korsten, course tutor of the Seminar Critical Pedagogy, in collaboration with Priscila Fernandes.
Since the 19th Century the political and the artistic avant-gardes have been thinking about the role of art in education in relation to societal circumstances and change, predominantly with the goal of emancipation. This dynamic however, depended on a national educational system that concerned all layers of society. Now that both private and public modes of education are at hand, and most adolescents spend more time on gaming and social media than on school work, it would be foolish not to consider this investment in a fundamentally pedagogical way. To address such issues, the lecture series proposes to explore the potential of a 'cartographies of acting pedagogically'. The aim is to use both the collective intelligence and practices of the students, guest speakers and theories to visualize the force field that actors are in when wanting to operate pedagogically. The lectures and seminars are constructed around the idea of 'liquid logic'; a more open, networked and fluid way of approaching the otherwise structured and compartmentalized educational models.
The lectures will take place at and respond to Priscila Fernandes' exhibition Those bastards in caps come to have fun and relax by the seaside instead of continuing to work in the factory (TENT, May 1 through July 5). Part of the exhibition space is set up as an informal classroom, functioning as an installation for joint production, reflection and debate. Among other work, Priscila Fernandes will present her recently published The Book of Aesthetic Education of the Modern School, inspired by the radical ideas of the Escuela Moderna in Barcelona (1901-1906). Although aesthetic education wasn't officially part of the curriculum, the school published several articles on the implementation of artistic activities in the learning process. In her book, Fernandes investigates what the role of art could have been had the Catalan pedagogue Francesco Ferrer i Guarda been able to further develop his project.
---
Cartographies of Acting Pedagogically: Working with Liquid Logic
Lecture # 1
Friday, May 22 20:00-22:00
What Are We Up Against and What Are the Possibilities?
With Adelita Husni-Bey and Ine Gevers
Location: TENT, Witte de Withstraat 50, Rotterdam
High tech systems are interconnected on a global scale. The Internet of Things, for instance, is extending rapidly and gaining more power everyday, to such an extent that we lose overview. The internal mechanisms of institutions start to lead their own life more and more: services are automated, data are the new currency, efficiency has become the norm and is identified with everyone's proper adjustment to machines. Technology's promise of the quick fix is changing power structures everywhere and the appeal of solutionism is stronger than ever. How can we look for alternative ways? How could citizens take charge and reclaim their environment? And how to keep our relations 'human'; or should we reconsider the very notion of humanity in education?
Biographies
Adelita Husni-Bey (Italy, 1985) is an artist and a researcher whose practice involves the analysis and counter-representation of hegemonic ideologies in contemporary Western societies. Recent projects have also focused on re-thinking radical pedagogical models within the framework of anarco-collectivist studies. Solo shows include: White Paper: The Land, Beirut (in Cairo), 2014, Playing Truant, Gasworks, 2012, The Green Mountain, ViaFarini/DOCVA, 2010. She has participated in Really Useful Knowledge, Reina Sofia museum, 2014, Utopia for Sale?, MAXXI museum, 2014, Jens, Hordeland Kunstsenter, 2013, Meeting Points 7, MuKHA, 2013,  Mental Furniture Industry, Flattime House, 2013, TRACK, S.M.A.K museum, 2012, Right to Refusal, 2012, Kunstverein Bregenz. She has recently completed the Whitney Independent Study Program in New York and will be presenting chapter II of 'White Paper', a project based on the analysis of the changing face of legislation in relationship to private ownership, at Casco (Office for Design Art and Theory), in the spring of 2015. 
Ine Gevers is curator, writer and activist. In 2007 she started Foundation Niet Normaal with the purpose of mounting art exhibitions and artistic campaigns concerning socially relevant themes for broad audiences. The organization has its roots in 1994, when Ine Gevers curated Ik + de Ander. Art and the Human Condition. In 2009/ 2010 she curated the exhibition and publication Niet Normaal · Difference on Display. The visual art manifestation, Yes Naturally · how art saves the world organized in collaboration with the Gemeentemuseum The Hague, researches how a non-anthropocentric perspective enables us to become more ecologically intelligent. Yes Naturally embraces artistic proposals for co-creation between human and nonhuman agents. Currently Ine Gevers is preparing the large scale research and art event Hacking Habitat, Utrecht.
---
Cartographies of Acting Pedagogically: Working with Liquid Logic
Lecture # 2
Thursday, June 4 20:00-22:00
Strategies of Empowerment
With Ane Hjort Guttu
Location: TENT, Witte de Withstraat 50, Rotterdam
Cartographies are supposed to map out where things are, so we can get a better idea of where we are, or 'how' and 'where' we can become. Yet there were others, obviously, who use cartographies to shape environments as well, which redefine the very space we live in and which we, consequently, have to chart by following the fabrications of others. As an artist, writer and curator based in Oslo, Ane Hjort Guttu has been working with issues of power, empowerment and freedom in the Scandinavian post-welfare state, through video works, picture collections, sculpture and photography. Guttu also writes analytical as well as poetical texts, and several of her projects discuss art and not just the history of architecture but also its modes of empowering people, or blocking their very potential of becoming.
Biography
Ane Hjort Guttu, b. 1971, is an artist, writer and curator based in Oslo. Latest projects and exhibitions include: Where Angels Fear To Thread, Sydney Biennial, Australia, 2014, Urbanisme Unitaire, Le Quartier, Centre d´Art Contemporain de Quimper, 2014 and This Place is Every Place, Tensta konsthall, Sweden, 2014. Forthcoming projects: Future Light, Vienna Biennial, Austria; Europe – The Future of History, Kunsthaus Zürich, Switzerland; and two solo shows in Bergen Kunsthall Norway and South London Gallery, Great Britain. An extensive publication on Guttu's work is being published in 2015 by Bergen Kunsthall/Sternberg Press. 
---
Cartographies of Acting Pedagogically: Working with Liquid Logic
Lecture # 3
Thursday, June 18 20:00-22:00
Precarious Pedagogies: Knowledge Production in the Age of Cognitive Capitalism
With Joost de Bloois
Location: TENT, Witte de Withstraat 50, Rotterdam
Biography
Joost de Bloois is an assistant professor at the University of Amsterdam, departments of Cultural Analysis and Comparative Literature. He has published on the nexus between art and politics in a.o. Rethinking Marxism, Volume and Historical Materialism. Recently, he has published an introduction into the work of Alain Badiou. He is currently working on two projects: 'Cultures of Precarity in Europe' and 'New Communisms'. 
---
Lecture Series 2014: Critical Pedagogies of the 21st Century

Credits photo: Adelita Husni-Bey, Postcards from the Desert Island, 2010-11, SD video transferred to DVD, 23 mins. Courtesy of the artist and Galleria Laveronica.

Dates: January 31, February 28, March 28 2014: 19.30 – 21.00 h

Locations:
Piet Zwart Institute: Karel Doormanhof 45, Rotterdam
Witte De With, Center for Contemporary Art: Witte de Withstraat 50, Rotterdam
Admission: Free
The lectures are open to the public
What is a school? How does it influence and construct politics and social relations in our present day society? Society seems to be ready for implementing change in schools. On the one hand this is based on the premise that we have to rethink education in relation to the future and challenges of the 21st Century. On the other hand there is a critical evaluation of conventional institutions and formats, fuelled by a clear interest from artists and theoreticians alike in alternative educational models.
The film Postcards from the Desert Island from the artist Adelita Husni-Bey documents a 3-week workshop with students from an experimental, self-run elementary school in Paris. The artist asked the pupils to turn the school hall into a desert island, and to relate themselves to this new territory. The video documents the children's approaches to self-governance and the possibility of imagining institutions and social relations from scratch. What if we break down the concept of school to its bare essence? What is a school? This question is the starting point for the lecture series Critical Pedagogies of the 21st Century, which deals with the phenomenon 'school' on a philosophical, theoretical and fictional level.
———————————
Critical Pedagogies of the 21st Century
Lecture # 1
Friday January 31 2014
Jan Masschelein: Making Art School: A Story about (Cave) Walls and Tables
Location: Witte de With, Center for Contemporary Art, Witte de Withstraat 50, Rotterdam
19.30 – 21.00 h
The first lecture entitled Making Art School: A Story about (Cave) Walls and Tables is organized in close cooperation with the educational department of Witte de With, Center for Contemporary Art, and marks the starting point of a structural cooperation.
In his presentation Jan Masschelein proposes to discuss the (art) school in terms of 'forms of gathering and actions', rather than in terms of functions and institutions. The school is neither an institution (obtaining legitimacy from a transcendent idea or ideal), nor an organization (obtaining legitimacy from performance of functions). It refers to a particular 'scholastic form' of gathering: a time-space-matter arrangement – including architectures, technologies, practices and figures – that allows for a particular relation to the world and for an experience of commonality of making things public. Masschelein relates this scholastic form to the first cave paintings and to the time-space experiences, gestures and the kind of attention that this emerging (art) practice implied. His lecture is not an attempt to describe an 'ideal school': by identifying what makes a school a school, Masschelein wants to pinpoint why the school as form has value in and of itself and why it deserves to be reinvented today.
Biography
Jan Masschelein is Professor of Philosophy of Education and director of the Laboratory for Education and Society at the University of Leuven (KU Leuven) in Belgium. His primary areas of scholarship are educational theory, critical theory and social philosophy. Currently his research concentrates on the public character of education and on 'mapping' and 'walking' as critical research practices. He is engaged with architects/artists in the development of experimental educational practices.
Together with Maarten Simons he is the author of In Defense of the School. A Public Issue. (2013, Leuven, free download here) and: Jenseits der Exzellenz. Eine kleine Morphologie der Welt-Universität. (2010, Berlin/Zürich: Diaphanes). Masschelein and Simons also co-edited the books The Learning Society from the Perspective of Governmentality (2007, Oxford: Blackwell) and Rancière, Public Education and the Taming of Democracy (2011, Oxford: Blackwell).
———————————
Critical Pedagogies of the 21st Century
Lecture # 2
Friday February 28 2014
Dennis Atkinson: Events of Learning and the Poietic Materialism of Art
Location: Piet Zwart Institute, Karel Doormanhof 45, Rotterdam
19.30 – 21.00 h
In his keynote lecture Dennis Atkinson will explore processes of learning through the themes of event, truth, pedagogies against the state and becoming in order to consider learning and how it might be supported in a world of becoming. He will focus on art in education at a time, particularly in schools in England and elsewhere, when it is under some threat. It will argue for the importance of art in education in terms of the force of art by taking the line that the transformational and 'vital' force of art is deeply significant for processes of learning and pedagogic action. Here the emphasis is not upon the art object in its more traditional or contemporary guises but upon art's process of becoming or its event: an event that will be considered in terms of a poietic materiality. The presentation will consider educational practices through two lenses: education viewed in terms of the power of production, commodification and calculation and education viewed in terms of an aphetic space of mutuality, enabling and poiesis. A space whose force, put in the words of Deleuze, is to restore a belief in this world when today for many the distance between involvement in the world and a belief in it is increasing.
Biography
Dennis Atkinson is Professor Emeritus at Goldsmiths University of London, Department of Educational Studies and the Centre for the Arts and Learning. He taught in secondary schools in England from 1971-1988 when he was appointed lecturer in art and design education at Goldsmiths University of London. Atkinson directed a number of programmes including, PGCE Secondary Art and Design Teacher Education, MA Education: Culture, Language and Identity and the Post Graduate Research Programme in Educational Studies. He was appointed Professor of Art in Education in 2005 and was Head of Department of Educational Studies from 2006-2009. He established the Research Centre for The Arts and Learning in the Department of Educational Studies in 2005 and was Director from 2005-2013. Atkinson was the Principal Editor of The International Journal of Art and Design Education from 2002-2009 and was a member of the National Society for Education in Art and Design's Publications Board until 2013. He was made a Fellow of the Society in 2009.
He has published regularly in a number of international academic journals since 1991 including The International Journal of Inclusive Education, Educational Philosophy and Theory, British Educational Research Journal, and has contributed chapters to a number of edited collections. He has published five books, Art in Education: Identity and Practice; Social and Critical Practice in Art Education, (with Paul Dash); Regulatory Practices in Education: A Lacanian Perspective, (with Tony Brown & Janice England,); Teaching Through Contemporary Art: A report on innovative practices in the classroom, (with Jeff Adams, Kelly Worwood, Paul Dash, Steve Herne, & Tara Page) and Art, Equality and Learning: Pedagogies Against the State.
———————————
Critical Pedagogies of the 21st Century
Lecture # 3
Friday March 28 2014
Jonas Staal: New World Pedagogy
Location: Piet Zwart Institute, Karel Doormanhof 45, Rotterdam
19.30 – 21.00 h
In the third lecture the artist and researcher Jonas Staal will introduce several past projects ('Allegories of Good and Bad Government' – 2011, 'Social Experiment' – 2011) which defined and inspired his thoughts on the relation between art and pedagogy, and which ultimately led to recent projects like New World Summit and New World Academy. New World Summit is an artistic and political organization which develops, what Staal calls 'alternative parliaments' for organizations excluded from democracy, for example by means of so-called designated lists of terrorist organizations. After the first three summits in Berlin, Leiden and Kochi (IN), he is currently preparing the fourth edition in the Royal Flemish Theater in Brussels. He will further speak of the New World Academy (2013), developed in collaboration with BAK, basis voor actuele kunst in Utrecht: a new school that invites organizations invested in the progressive political project to explore with artists and students the role of art at the center of political struggle.
Biography
Jonas Staal (1981) has studied monumental art in Enschede NL and Boston USA. He currently works on his PhD research entitled Art and Propaganda in the 21st Century at the University of Leiden, The Netherlands. He is the founder of the artistic and political organization New World Summit (NWS) that contributes to building alternative political spheres for organizations banned from democratic discourse and of the New World Academy that connects progressive political organizations to artists. His work includes interventions in public space, exhibitions, lectures, and publications, focusing on the relationship between art, politics and ideology. His essay Post-propaganda (Fonds BKVB, 2009) and publication Power?… To Which People?! (Jap Sam Books, 2010) provides the theoretical basis for this line of work. His most recent book is Art, Property of Politics III: Closed Architecture (Onomatopee, 2011), a research into a prison model developed by Dutch far-right Freedom Party (PVV) politician Fleur Agema.
His projects were exhibited in among other the Van Abbemuseum in Eindhoven NL (Trickster's Trickers,2010; Freethinkers' Space Continued, 2012); the David Roberts Art Foundation in London UK (History of Art, the, 2010); Extra City Kunsthal Antwerpen BE (1:1, 2011); Kadist Art Foundation in Paris FR (Enacting Populism, 2011); BAK, Utrecht NL (How Much Fascism?, 2012; New World Academy, 2013); de Appel, Amsterdam NL (Vote Back!, 2012); the 4th and 5th Moscow Biennial, Moscow RU; the 7th Berlin Biennale in Berlin DE and the 1st Kochi-Muziris Biennial in Kochi IN 2012. He regularly publishes in books, newspapers and magazines – his written work appeared in NRC Handelsblad, de Groene Amsterdammer, Metropolis M, nY, Open, Artleaks, Frakcija magazine and Manifesta Journal, among others.
Staal lives and works in Rotterdam, NL
http://www.jonasstaal.nl
http://www.newworldsummit.eu