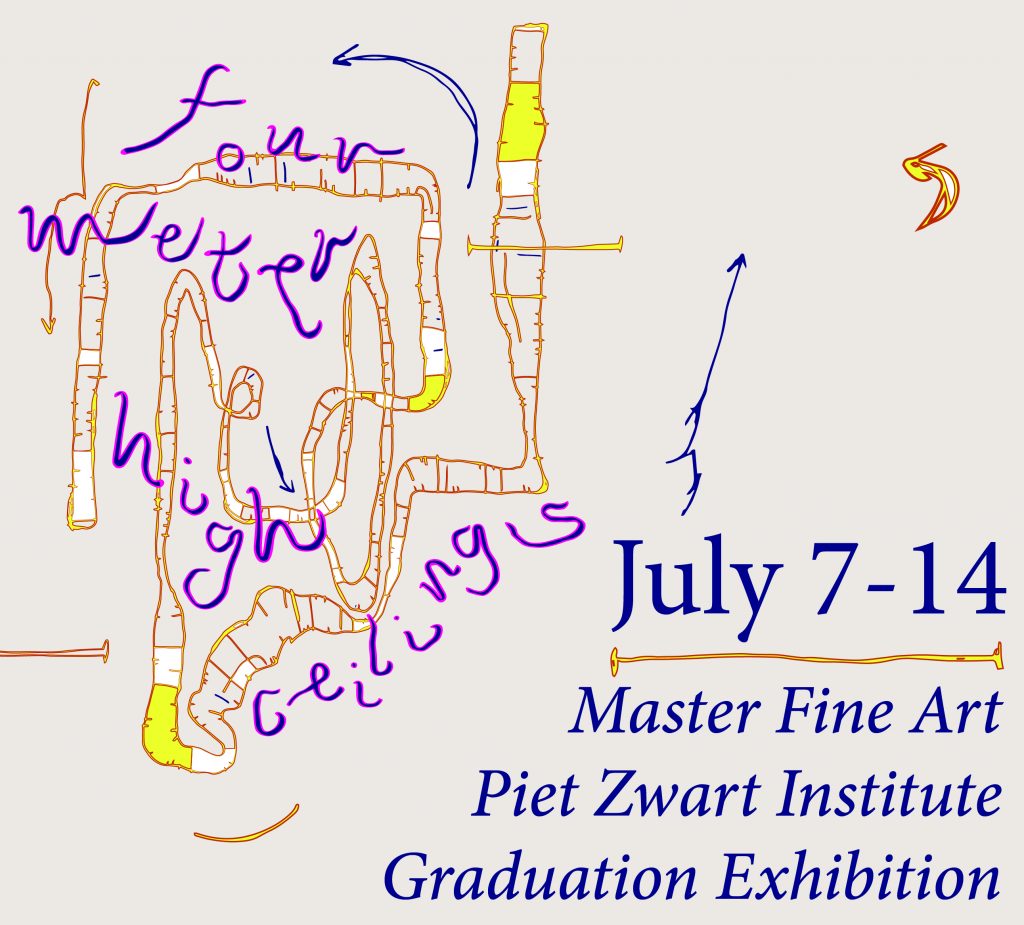 The Piet Zwart Master Fine Art presents Graduation Exhibition 2023: "Four Meter High Ceilings".
Location: MFA studios at Kareldoormanhof 45, 3012 CW Rotterdam
Opening: July 7, 5 pm – 10 pm
Exhibition opening hours: July 8 – 14, 12 pm – 7 pm
Artists: Sarah Atzori, Gloriya Avgust Panova, Gabi Dao, Nadine Ghandour, Ifigeneia Ilia-Georgiadou, Helle Lindskog, Gweni Llwyd, Marlee Mcmahon, Kyra Nijskens, Tiago Santos, Jeltje Schuurmans, Miriam Del Seppia, Agata Sznurkowska
Access information for the building:
The PZI building at Karel Doormanhof 45 is accessed through the garden entrance. This entrance has a flat paved surface with dropped curb leading into it from the street. There is limited car parking but there is always turning space for cars to drop off. The building entrance has a paved ramp and double doors which open inwards. To open both front doors, assistance is needed. Internal room doors are 85cm wide. In the hallway there is one 2cm threshold lip where two parts of the flooring connect; apart from this all interior floors are surfaced with tiles or linoleum. There are several single all gender toilets on the ground floor; none of these have grab bars or are wheelchair accessible, all have a door width of 80cm and a 3.5cm lip on the threshold. 
The garden can be used as a quiet space for anyone needing a break during their visit. It has some picnic bench seating.
If you have any questions around accessibility ahead of your visit please email pzwart-info@hr.nl. This inbox is monitored Monday – Thursday.
Access information for the exhibition:
Some of the audiovisual works in the exhibition may be subtitled or have closed captions, some will not have either. There will not be any visual description, tactile tours, or sign language tours of the exhibition available.