Master Design
Master Design
About the Master Design
Based on their own design question, students within the Master Design learn to do design and in-depth design research. They constantly reflect on what they discover and convey their work and expertise through storytelling. They combine and integrate this part-time master with their design practice, renew their own role and in this way innovate creative positions in society and organizations. They contribute to social, environmental and technological change. The combination of participatory work and authorship is fundamental.
The Master Design has its own way of doing design research. The MD Circle represents this methodology in methods and lemmas. The curriculum translates the method into three learning lines and offers workshops, lectures and coaching sessions.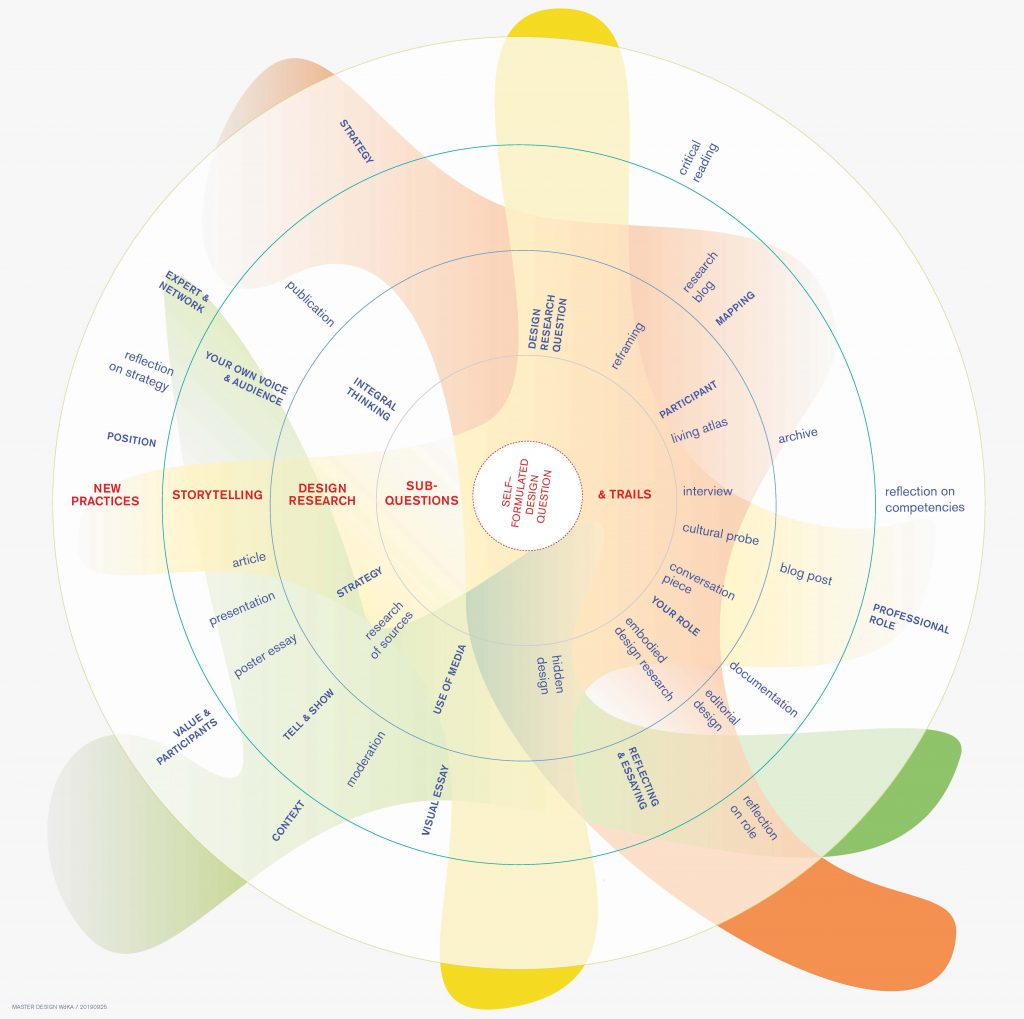 Students come from different design disciplines. During the course they share iterative research and working with participants.
Students constantly translate what they learn into answers on their own design question. Smaller and larger questions form the basis of the research methods that they appropriate. For example, they start talks through conversation pieces, try out designs in hidden design and think aloud about their search in a research blog. In this way they find answers to questions, allowing them to make choices in design research and in their designs. At the same time, they develop their own methodology for doing design research; they position themselves as experts in their own context.
Practical Information
The Master Design is a two-year part-time course. It is centred on doing design research. This research seeks answers to self-defined design questions, and combines methods of making, gaining in-depth knowledge and positioning.
The Master Designis about doing design research into your own design question
has students & alumni showing on design research-projects here
is an International Classroom, meaning that classes and material are in English, but students individually can work in Dutch
is part-time, lasts two years and has a study load of 20 hours per week
has biweekly workshops on Tuesday evenings and Wednesdays
has a team of teachers that consists of Jan Belon & Jop Japenga (Afdeling Buitengewone Zaken), Sietske Klooster, Harma Staal & Hanneke Briër
also invites interesting guest teachers, such as Mark Mulder, Linda Wassenaar and Moniek Driesse
is meant for designers with a Bachelor of Arts or Design
provides information about the course at the Open Day on Wednesday 18th November. We will have an online informative session at 19:00 – 20:30. Please subscribe via the email: Wdka.masterdesign@hr.nl and tell us your name, background (discipline) and what you expect from master (short text)
offers a short preliminary program in Application Workshops on Wednesday 3 March, 10 am – 12.30 pm and Wednesday 31 March, 10 am – 12.30 pm
has its Application Assessments on Monday 10 & Tuesday 11 May 2021 – deadline hand in Application Portfolio Thursday 29 April 2021 in our application tool
explains what to work on for the application in MD Application Portfolio & Assessment you will find here
shares all information on Open Days, preliminary workshops, handing in of Application Portfolios and dates of Application Assessments here
starts in September 2021 with a new group
is always available for questions and additional information through wdka.masterdesign@hr.nl
Additional information
is a study of 60 EC
is low-residency, meaning that a large part of the study load is outside contact time
in exceptional cases is suitable for students who are not designers, but who explicitly think and work as a designer
is due to its part-time nature and VISA legislation only accessible to EU residents
costs around € 1770 (first master's program) or € 10.000 (second master's program) per year
allows for a DUO Lerarenbeurs
Please from Tuesday 1 December onwards use our online application tool if you wish to apply. 
Note: You first need to register in Studielink, where you have to fill in:
• 22 OJ (this stands for the Hogeschool Rotterdam or Rotterdam University of Applied Sciences)
• 49098 (this stands for the Master Design, part-time)
This process can take a few days before you receive an email with the 7- digit student number you need to apply in our online application tool.