Within current design practices we choose a specific position, in which creative forms of design research and working with participants are crucial. The methods that the study programme provides for conducting design and in-depth participatory research support this. We see design as an engine for (behavioral) changes and transitions in the context in which our students place their projects.
Based upon their own design goal, students of the Master Design learn to apply a designerly and in-depth approach to design research. They constantly reflect on what they discover and share their work and expertise through storytelling. Combining and integrating this part-time master with their design practice, they renew their own role and thus that of (creative) professionals in society and organizations. They contribute to social, environmental and technological change. The combination of participatory work and authorship is central.
Working together with participants, who bring their own questions, experiences, ideas or knowledge, is the starting point. With them, our students look for opportunities, reflect on discoveries and try them out. Their designs, within the research process or in the final product, materialize and visualize design choices in an idiosyncratic way. During the course, they also find their own voice in the convincing and attractive storytelling with which they propagate their design research.
When they graduate, our students establish an original vision that combines personal curiosity, participatory design research and creative design power. In doing so, they take their place as experts in a new, meaningful practice and contribute practice-based and transdisciplinary to innovations in social and design practices.
Relevance in social and design context, as well as accountable design research and storytelling, are central in obtaining the master level.
The pedagogical vision of the Master Design is connected in three learning lines. Its curriculum includes workshops, lectures, a field trip and coaching sessions in which reflection in an on action form an important element. The Master Design Circle represents the principles of the course in its lemmas, key concepts that carry the curriculum.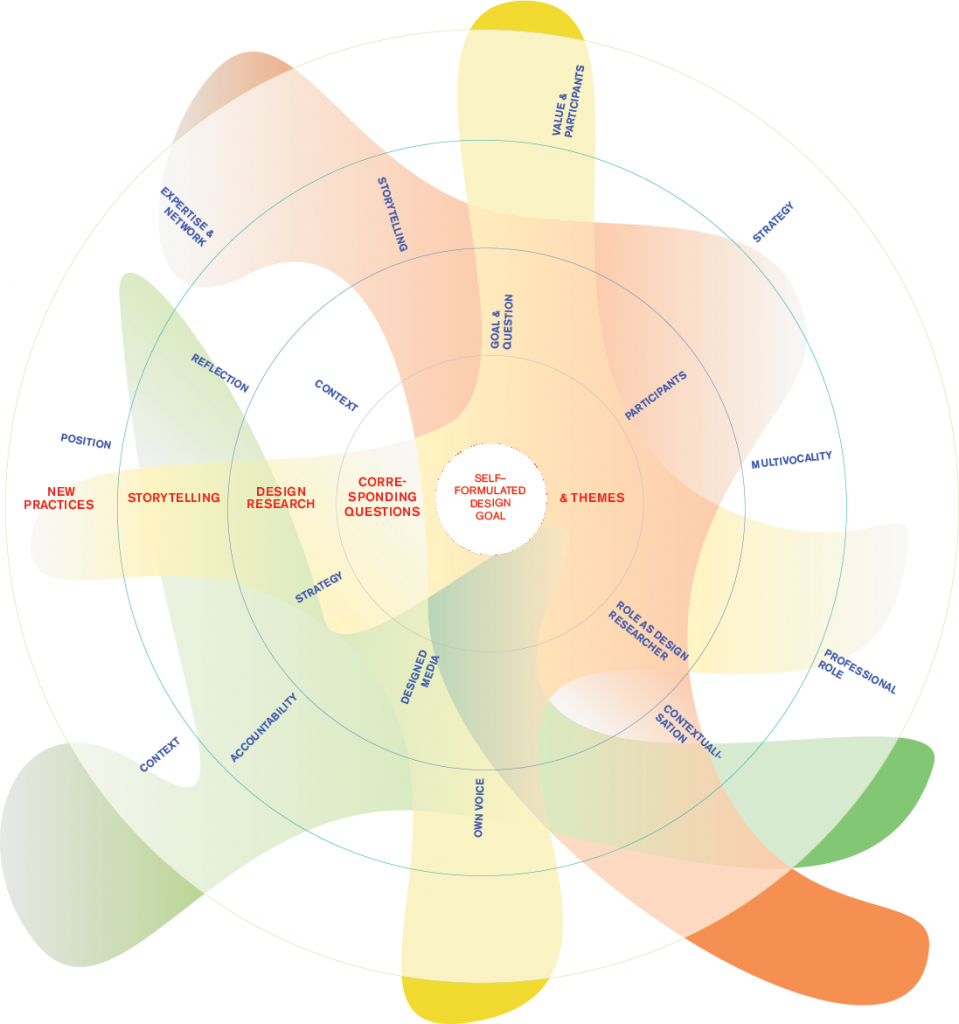 In the first year you get to know different methods in the three learning lines design research, storytelling and new practices. By deploying it directly to answer your own questions, you gradually develop your own methodology. You also work on a suitable network of participants and look for your positioning in your context. In the second year you work on your own methodology and are thereby relevant to the social and design context in which you work. You graduate on design (methodology and work), a publication and a clear vision with which you stand as a professional in your new network.
Students come from different design disciplines, but most have a Bachelor of Arts or Design. What binds them during the master is iterative researching and working with participants.
The designers who come to study at our master are all looking for deepening of their own practice. In general, they are in their thirties, have a solid professional footing and know what they find important in their profession. In their own practice, they found a design question they want to research and topics that have interested them for some time.
We also offer space to bachelor students who have done excellent design research and want to continue with it.
The Master Design is part of the WdKA/Piet Zwart Institute. The course is an international classroom. The programme is taught in English, but we give students the opportunity to do their storytelling in Dutch or English, depending on what their context requires. The study after an application assessment accepts both students from the Netherlands and within the EU.
NB Due to its part-time nature and VISA legislation only accessible to EU residents.
Starting each September, this master is a 60 EC part-time course which lasts two years and has a study load of 20 hours per week. Classes are on Tuesday evening and Wednesday, every two weeks. We are low-residency, meaning that a large part of the study load is outside contact time, done by students themselves.
The tuition fees are around € 1800 (first master's programme) or € 10.000 (second master's programme) per year. Please note that each year the tuition fees are updated. The exact values for 2024-2025 are not known yet.
This master allows for a DUO Lerarenbeurs.
If you have any questions, please contact us through wdka.masterdesign@hr.nl