NOMAN studio
NOMAN studio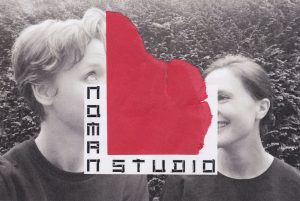 NOMAN studio was founded in 2011 to create a platform of common interest for Lara Tolman and Selina Parr. Having a background respectively in set design and fashion design they developed a signature that is both experimental and facilitating. With their love for material and color they manage to create worlds that are grand and intriguing, but always emphasize the human scale
NOMAN studio designs and produces works that apply to the specific needs of the customer, this can be for example a window display, scenography, interior design or exhibition design.
Clients are: Esprit x Opening Ceremony, Bugaboo, Bernhard Wilhelm, SCHUIT x Droog Design, Liselore Frowijn en Tijdelijk Museum.
NOMAN studio has also shown autonomous works during several design exhibitions; amongst which: Dutch Invertuals (Milan & Eindhoven), Design Week Beijing, Design Week Paris, Design Biennale Istanbul.