Sjoerd Westbroek
Sjoerd Westbroek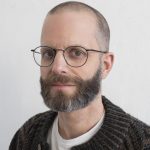 Sjoerd Westbroek is an artist with a practice that involves drawing, writing, teaching, studying and collaborating. He holds a BA of Fine Art in Education from ArtEZ Arnhem and an MA Fine Art from the Piet Zwart Institute in Rotterdam and the University of Plymouth (UK). In 2013/2014 he was a resident artist at the Jan van Eyck Academie in Maastricht (NL).
His practice moves between different spaces, such as his studio, exhibition spaces, the academy and residencies. His work often explores the productive tensions between studio drawing strategies and more socially situated actions. For instance, a series of paintings can join a dinner party built around pickled foods. And a recent residency at Kunstvereniging Diepenheim resulted in a series of monoprints, many kilos of apple sauce and a public reading/performance about infrastructure, locality and artistic production.
An ongoing interest concerns self-organised spaces for contemporary art. Between 2008 and 2013 he was a founding member of artist-initiative ADA Rotterdam, which mainly focused on creating a support structure for recently graduated artists through providing studio spaces and organising a public program. He was a board member of various art initiatives, most recently Hotel Maria Kapel in Hoorn.
Westbroek is lecturer at the Teacher Training Programme of the Willem de Kooning Academie Rotterdam, where he tutors courses in artistic practice. At the Master Education in Arts program he co-tutors the Practice and Research Seminar and he is one of the graduation supervisors.
Website: www.sjoerdwestbroek.nl