Online Open Day – November 20, 2021
Online Open Day – November 20, 2021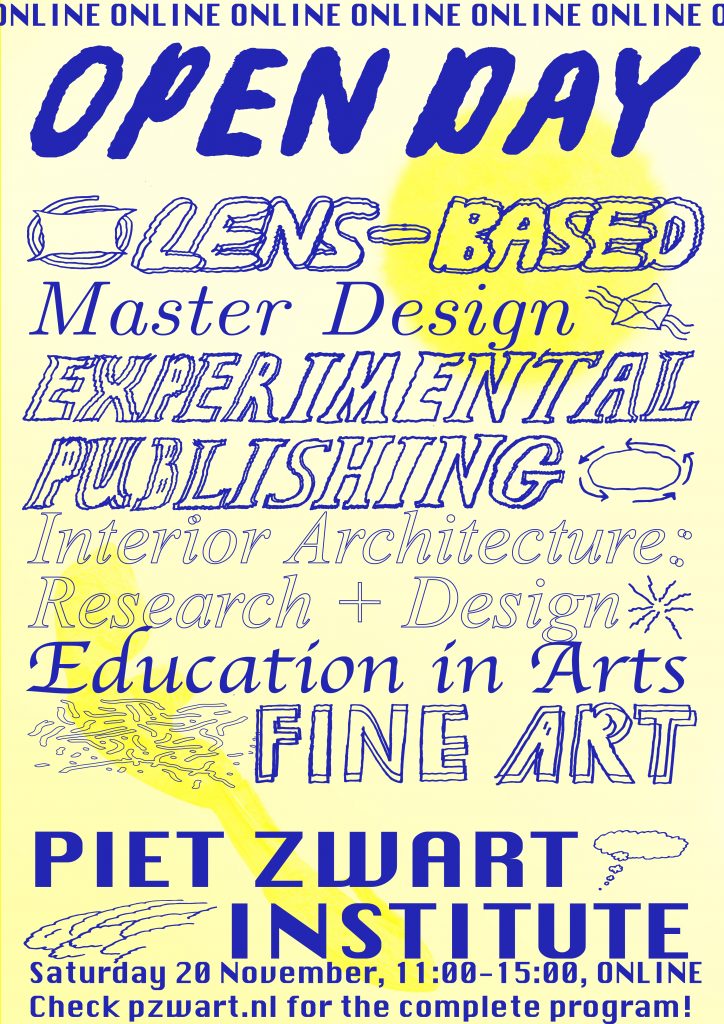 Join us for the Piet Zwart Institute Open Day, which will take place on Saturday November 20, from 11.00 till 15.00. Location: Online
1. GENERAL PZI STUDENT TALKS

Piet Zwart Institute will host their Open Day online. With a group of student representatives from each Master Program and staff members, we will host two timeslots of Student Talks: 11.00-12.00 & 13.00-14.00. In these sessions current students will tell you more about the different programs we offer at the Piet Zwart Institute and we will answer all your questions!
Click this link to join us for the Online Event !!
The Piet Zwart Institute houses four full-time Master programmes, Interior Architecture: Research + Design (MIARD); Master of Arts in Fine Art and Design, which encompasses Fine Art (MFA) Lens-Based Media (LB) and Experimental Publishing (XPUB) and two part-time Master programmes, Education in Arts (MeiA) and Master Design.

Do you want to know more about the part-time Master Programmes, Education in Arts and Master Design? See below how you can subscribe for their online presentations on November 20.

Our next Open Day is planned for February 12, 2022.

For further information about the Piet Zwart Institute, please contact us via:
E-mail: pzwart-info@hr.nl

————————————————————————————————————-
2. PART-TIME MASTER PROGRAMMES

Master Design / Programme Online Open Day
Saturday 20 November 2021 / 12.00-14.00 pm
Zoom https://hogeschoolrotterdam.zoom.us/s/95493344133
Meeting ID: 954 9334 4133
Passcode: 956281
Due to the change of Covid measures, we have to invite you online for our Open Day. You find the new time schedule and the Zoom link above.
12.00 – 12.45 pm Information on the Master Design and questions in general
>by tutors Harma Staal & Hanneke Briër
12.45 – 13.30 pm Student work and questions on their experiences
>Katherina Slee, Jet v.d. Touw & Maaike de Laat
13.30 – 14.00 pm What are you looking for in our course
> by tutors Harma Staal & Hanneke Briër
If you want more information in advance, please send us an email: wdka.masterdesign@hr.nl
And for information in general: https://www.wdka.nl/programmes/master-design


Master of Education in Arts / Programme Online Open Day
Saturday November 20, 11.00 – 12.30: (online: link zoom below)
Join Zoom Meeting
https://hogeschoolrotterdam.zoom.us/j/93743756240?pwd=UmE0N1h3Q0M1cVI1SWR4YWlyZEpZZz09
Meeting ID: 937 4375 6240
Passcode: 927143
We warmly welcome you to take part in the Master of Education in Arts – online Open Day to find out more about our programme! Course director will give a presentation about the course and afterwards there is time for an elaborate, informal Q & A with staff and students.

Please subscribe before Wednesday, November 17 via the email: demsm@hr.nl. We kindly ask you to provide us your name, background (discipline) and a short description of what interests you in our master program. To learn more please visit: www.pzwart.nl/master-education-in-arts/. Can't attend? Visit one of our other Open Information Meetings throughout the year > www.pzwart.nl/master-education-in-arts/open-information-meetings/