Marie Caye, Anna Kieblesz, Yezi Lin, Maia Liu, Lilian Ptacek, Johannes Hugo Stoll
With Cannach MacBride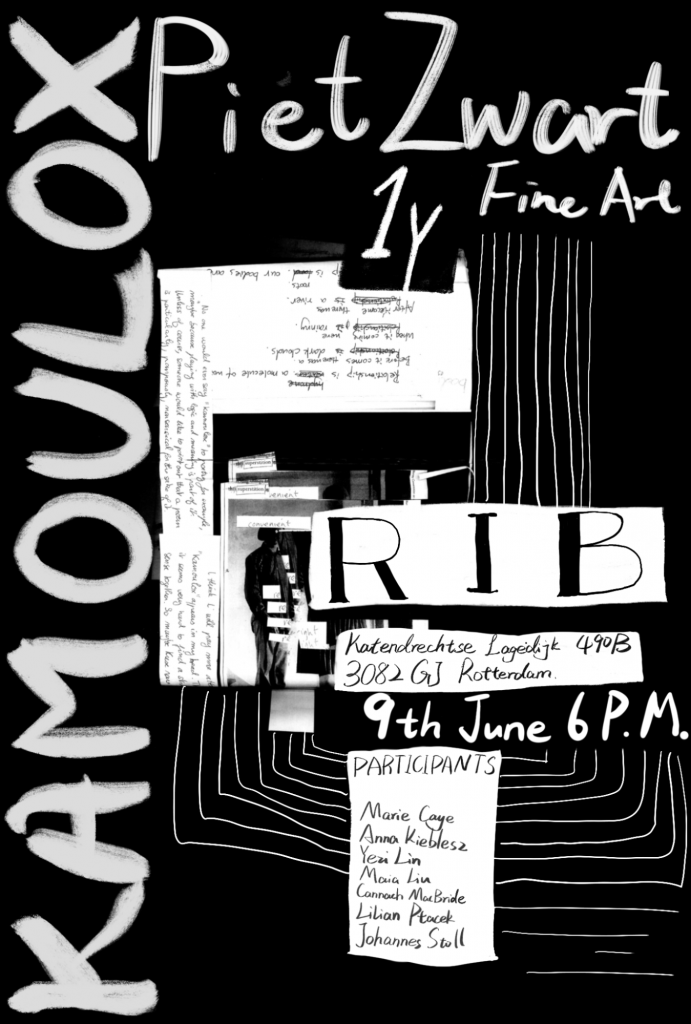 Image credit: poster by Yezi and Maia working with a zine compiled by Anna from materials made by all
[Image description: A graphic black and white poster with various sizes and styles of handwritten typography overlaid on a collage of cut up photos, scraps of handwriting, and hand drawn lines. The text says Kamoulox, Piet Zwart 1Y Fine Art, Rib, 9 June, 6pm.]
Time: Friday June 9, 2023, 18.00hr/6pm, free admission
Location: Rib, Katendrechtse Lagedijk 490B, 3082 GJ Rotterdam
The first year students of PZI MFA have been gathering monthly to talk, listen, read, write, eat, make, and learn with one another for a research practices seminar called "Proseminar: Researching and writing from the middle of somewhere."
For the week of June 5-9, they're moving their gathering site to Rib. There, they are accumulating reflections and responses into an open presentation of their collectively gathered threads and material exchanges.
All are warmly invited to join them on Friday from 18.00hr on, at the end of their week together, and share in some art, food, drinks, conversation, and time.
With many thanks to Maziar Afrassiabi and Rib.
Access info: The ground floor of Rib is accessible via a single push entry doorway with a shallow step up. The upstairs is accessed via a wooden stairway with partial handrails. There is one small single stall toilet, which is not wheelchair accessible and does not have grab bars. There will be refreshments provided which will include alcoholic and non-alcoholic drinks. The space has concrete floors and is quite echoey. The available seating is armless folding chairs and benches. There is outdoor space available on the street out front; on a back veranda (via the upstairs); and round the corner in a park. Nearest public transport is via tram 25, stop Frans Bekkerstraat. There will be people visible in the front of the space when you arrive and you are warmly invited to wave if you require any assistance with the door if it happens to be closed.
For any questions regarding access or any needs you'd like to chat about in order to attend, please contact Cannach on cannach@posteo.net and they'll get back to you same day.