Natasha Soobramanien
Natasha Soobramanien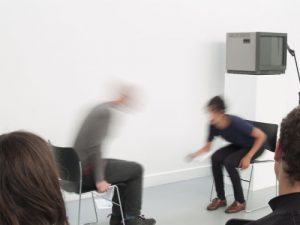 Natasha Soobramanien is a writer working across the fields of literature and the visual arts. She is interested in exploring the ways in which literature might be opened up to multiplicities—of form, of voice, of intent—and what knowledge and practices might be shared between the two fields. She is also interested in encounters between literature, and public collective fictions such as law, race and gender.
Her current project is a collaborative novel with Luke Williams, (working title: 'Diego Garcia') forthcoming with Fitzcarraldo Editions. The novel is being published in first draft form in instalments. So far, chapters have appeared in BOMB magazine, The White Review, in Semiotext(e)'s Animal Shelter and as part of Dialecty—a series with Book Works/Common Guild. All published chapters are available here.
She has been involved in a number of collaborative public projects concerned with expanding the literary, such as the events series Plastic Words at Raven Row in London and Smarginature at Lydgalleriet Bergen.
She particularly enjoys working with other writers and artists on editorial projects. As part of Smarginature she and co-organiser Daniella Cascella commissioned new texts from Hannah Black, Juliet Jacques and Bhanu Kapil among others. In 2014, she was commissioned by If I Can't Dance (Amsterdam) to work with artist Gerry Bibby in the development of a manuscript for his first novel The Drumhead (Sternberg Press).
She has been a visiting lecturer at various art institutions in the UK and Europe including: The Ruskin School of Art, Royal College of Art, Chelsea College of Art, HISK (Ghent) and KASK (Ghent) and has presented her work in spaces such as MHKA (Antwerp), South London Gallery, The Serpentine Galleries, WIELS (Brussels), Transmission (Glasgow), LUX (London) and Flat Time House (London).
She holds a PhD in Creative and Critical Writing from the University of East Anglia, for which she wrote the novel later published as Genie and Paul (Myriad Editions, 2012). A French translation by Mauritian novelist Nathacha Appanah appeared with Gallimard/Continents Noirs in 2018.