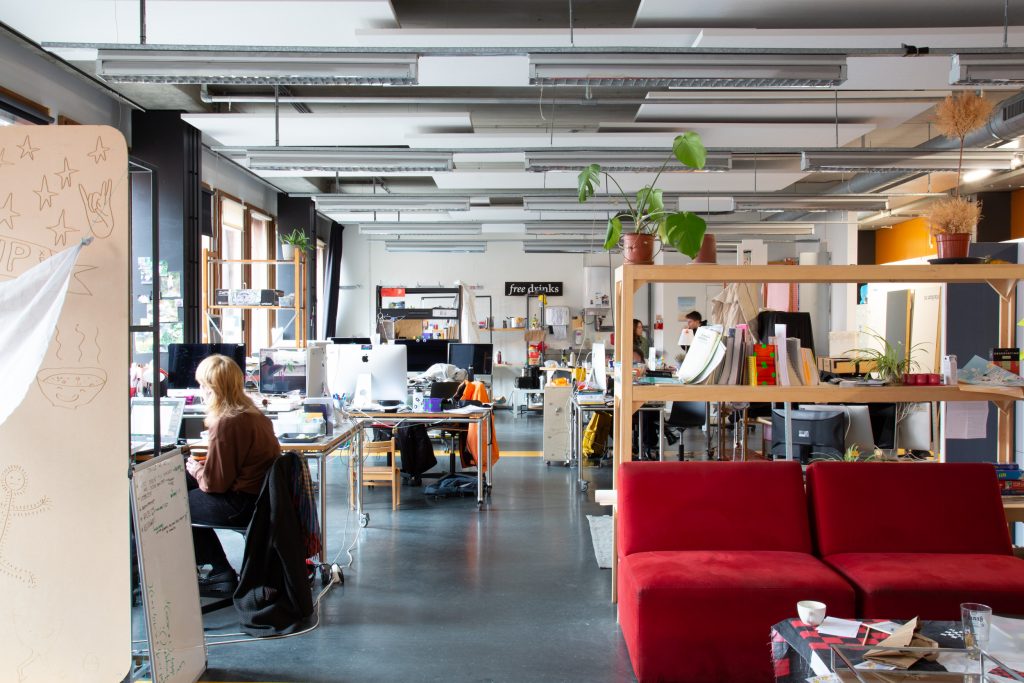 XPUB studio
Personal computers, servers, network
We are equipped with a range of machines running GNU/Linux and Mac OS as well as all the requirements for recording and editing images, video and sound. We run and professionally administer our own web servers, provide a full web development environment for you and can install required programming languages or content management systems for your projects if necessary. We also provide electronics tools for hardware projects, and are frequently using Single-Board Computers (SBC) like the Raspberry Pi to develop projects and host experiments. Students are expected to bring their own laptops as work machines (if they can afford them), but also have access to rental laptops and to servers for both experiment and publication. A high-speed internet connection is available in all rooms: wireless (eduroam) at 11mbps and wired Ethernet at 100mbps.
Other equipment
We also provide printers, network equipment, digital photo and video cameras, older computers and screens that can be used and repurposed for custom media work (including your own local servers and appliances), and projectors as rental items. Many of the work that you see on these pages and on the course wiki shows you that the strongest projects are often those that use simple or minimal technical means, or clever programming tricks rather than an overkill of equipment.
No labs, on purpose
As the Experimental Publishing course is not oriented towards imaging, 3D game development or professional audiovisual production, we do not provide labs or production studios. However, such facilities do exist at the Willem de Kooning Academy and may be used for particular projects. (Our philosophy is deliberately not 'high tech' in the sense of being oriented towards the latest and greatest hardware and software). We favour a research approach where the XPUB studio is used as a permanent workshop.
STATIONS
Stations are research and making facilities provided by the academy and that can be used by students and staff of all Bachelor and Master programmes. They can be used strategically by the XPUB students to gain new skills or work with specialised equipment.
The Stations are:
Interaction Station
Image & Sound Station
Publication Station
Material Station
Fabric Station
Drawing Station
Business Station
Research Station
---
Business Station
What?
Creative professionals require a variety of entrepreneurial skills in order to successfully compete within a national and international market. Besides specific programmes and modules, the Business Station provides a wide variety of activities and events in the field of entrepreneurial skills. Of course you are welcome at the Business Station during, and even after, your studies for all your pressing questions.
In concrete terms, this means that students can find:
Advice regarding projects in which marketing, sales, target audiences, etc. play an important role. See also: beardsandsuits.nl
Advice for students who are already working as self-employed entrepreneurs.
Advice in setting up your own business.
Advice if you are thinking of setting up a business.
---
Drawing Station

What?
The Drawing Station is the place where students learn 'the language of drawing'. Even in an age dominated by digital media, drawing remains a basic skill, a direct and elementary method of achieving a visualisation. The Drawing Station focuses on developing an idea into a visual (communicative) concept using various digital and analog drawing techniques.
Facilities
Besides drawing tables and easels, the Station also features computers (Mac and PC) as well as Cintiq displays for digital drawing. The drawing and painting studios are suitable for observational drawing. Here you can control the lighting and partition the space; there is also a podium for setting up objects and for model drawing. Besides the drawing and painting studios, there is also an open studio with various computers (Mac and PC) for digital drawing. There are also other facilities such as scanners, projectors and printers which you can use while working in the Drawing Station.
---
Image & Sound Station

What?
This Station provides facilities for 'time-based storytelling': image, time, narration, sound and light. Here students can acquire a variety of technical and other skills: familiarising themselves with various media, and learning to experiment with and apply these media. This station includes a number of studios (photography, animation and audio-visual media) with facilities for designing 2D and 4D narratives, where students can acquire and develop these skills.
Facilities
The Station offers all the facilities necessary for realising professional multimedia productions. In the photo studios you can use high-quality digital cameras, an extensive flash installation, and various other devices. The AV studio is suitable for realising audio-visual productions, and features HD video cameras, a light ceiling, green screens for chroma keying, etc. There is also a sound studio for making audio recordings. The animation studio is suitable for analog as well as digital projects, featuring state-of-the-art Windows and Mac computers with specialised software such as Maya, TVpaint and Adobe After Effects. The studio also has light tables, peg bars and an A3-sized autofeed scanner.
---
Interaction Station

What?
The Interaction Station focuses on the design of 'behaviour', and more specifically on the design of interaction and interface. As we find ourselves increasingly surrounded by computers and digital networks, the design of interaction is growing increasingly more complex. You will focus on the development of software and hardware interfaces.
Facilities
The Interaction Station includes all facilities for working on interactive installations, wearables, electronics and networked applications. Here you can solder or create 3D prints using the Ultimaker; there is a laser cutter and a variety of electronics equipment (Arduino, Raspberry Pi, MaKey MaKey, LEDs, LittleBits and various sensors). There is also a Microsoft Kinect and an Oculus Rift (virtual reality glasses) as well as video projectors. The Interaction Station also features a wide variety of computers, including its own dedicated computer network and server.
---
Material Station

What?
This Station focuses on working with wood, metal, ceramics and plastics, as well as 3D digital fabrication technologies and innovation in the use of materials. You will gain hands-on experience with various materials. The materials which can be processed and researched here are: wood, metal, plastics and ceramics. An important question is how 'new' digital fabrication techniques can be used in order to question, influence and innovate existing 'crafts'.
Facilities
In the Material Station you will find professional woodworking equipment, such as cutting tables, a milling machine and planing machines. In the metal workshop you will find equipment for welding, sawing, cutting, turning, forging and bending steel. In the ceramics & plastics studio you can work with clay, plaster and various moulding resins, as well as hard plastics (vacuum moulding). Ceramics products can be baked in ovens. The academy's largest 3D printer is located in the Material Station, as well as several Ultimakers, a large laser cutter and a CNC milling machine.
---
Fabric Station
What?
The Fabric Station focuses on textile fabrics, fashion, and innovation in the use of materials. In this station, students gain hands-on experience with various materials and techniques for exploring and further developing fabrics and fashion. An important question is how 'new' technologies can be used in order to influence and bring innovation in the field of fabrics and fashion. The station features various analog devices and machines, as well as computer-controlled machines such as a digital embroidering and knitting machine. It is also possible to digitally create and alter patterns using Lectra software.
Facilities
As a preview of the Station's final configuration, you can soon find the following facilities: an embroidering machine, knitting machines, a drum carder, sewing machines for various materials and techniques, a pressing table, a spinning wheel, a transfer press, a weaving loom, and equipment for dyeing and felting fabrics. It is also possible to digitally create and alter patterns using Lectra software.
---
Publication Station
What?
This Station focuses on reproduction, presentation and publication in print and digital media. The station offers the 'traditional' analog reproduction methods (printmaking, silkscreen printing and typesetting) as well as new digital methods of 2D reproduction (such as online publishing and e-publishing).
Facilities
The Publication Station provides facilities for publishing projects in print or digitally. For print publication there is a laser cutter, a Riso stencil machine, several large-format printers, photocopiers and a flatbed printer. There is a typesetting workshop with two presses, as well as a small but professionally equipped silkscreen printing shop. There are also presses suitable for lithography, relief lithography and etching. A new addition is the gluing machine for easy adhesive binding of books. You can use the paper guillotine for cutting stacks of (printed) paper, for example to produce books in small print runs. There are also two computer instruction spaces where you will find all the software you might need while working in the Publication Station.
---
Research Station
What?
The Research Station sees it as its mission to provide all the skills, methods and tools necessary for supporting (artistic, theoretical) research. The Research Station focuses on connecting the practice of 'making' with in-depth theoretical knowledge, since both practices are considered as reflective forms of knowledge production. Basic principles include experimentation with various research methods and the application of theoretical perspectives in order to help define the student's own positioning.
The knowledge, skills and methods provided are intimately connected to the education programmes: contributing to the curricula while also being defined by these same curricula. For example: writing skills, design research methods, or thematic lectures developed in the teaching programmes.
The Research Station also develops a programme (open courses, modules, knowledge database) based on the WdKA programme curriculum, the research programmes of the research centre Creating 010, the head tutors, and the media library.